A New Way to Serve
We're an online-only restaurant serving up artisanal, inspired tacos to our community by partnering with DoorDash. We offer delivery throughout the Dothan area: to your home, your office, your parties, or at the ballpark.
Catering coming soon!
View Menu
Order Online
The restaurant industry looks a lot different today than it did a few years ago. Based on the success of Fire Stone, we knew we could bring something to our community that was different, inspired, and would be loved. After many months of putting our heads together, we knew we would have a hit with Ghost Tacos.
It's a bit different to have to order your food online and not be able to eat in a traditional dine-in establishment, but it allows us to keep costs low (Brisket tacos = $5, psh!) and deliver the best quality food to our loyal fan base. Follow us online @ghosttacos_ and see what we're up to!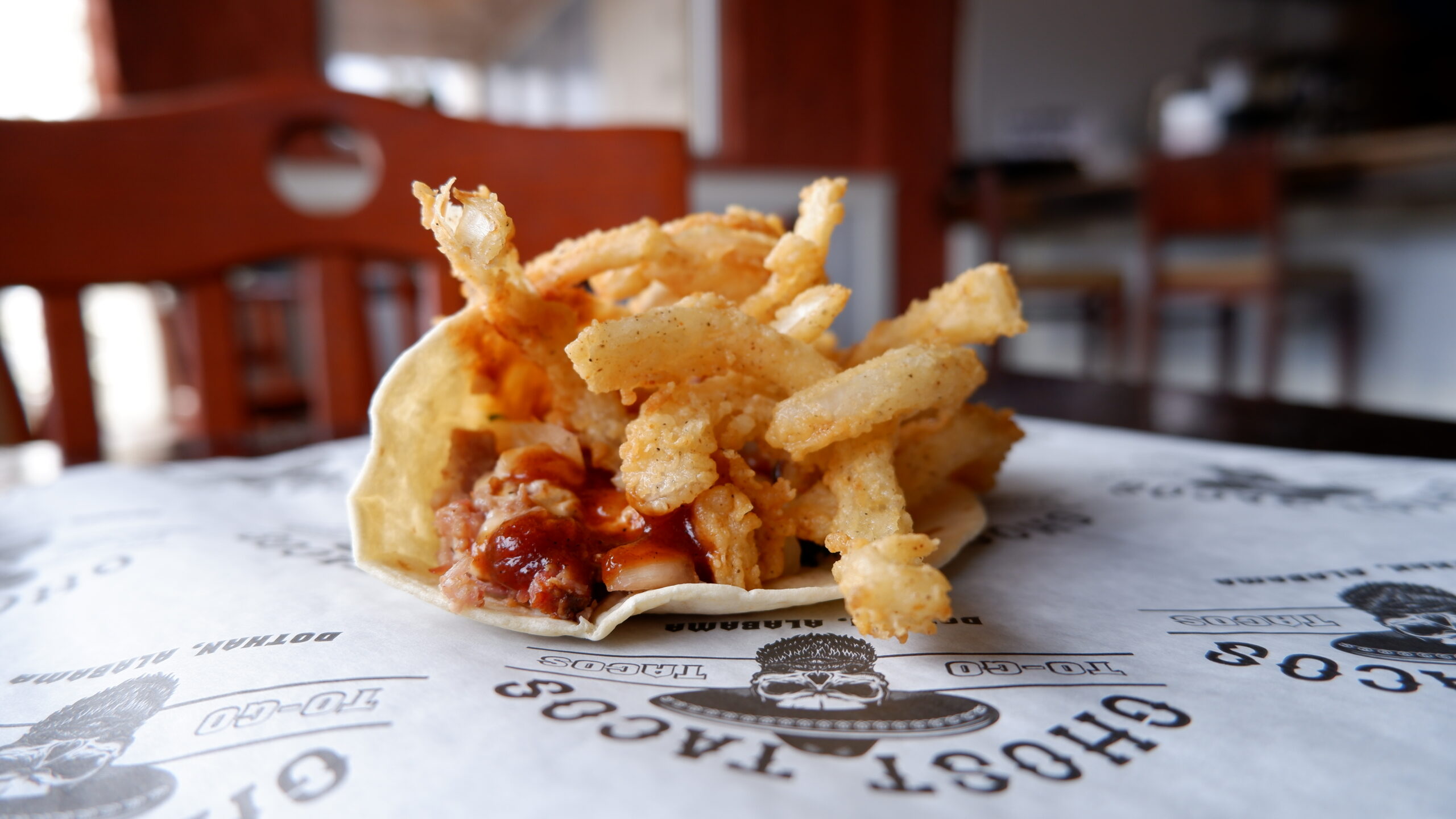 Fresh Ingredients, Tasty Meals
Brisket, Ribeye, Pork Loin, Fresh Fish, Pasture-Raised Chicken. We only use the best so you get the best. 

Had 3 different tacos and they were all delicious! Seasoned well and packed full of flavor. Try them with corn tortillas and you won't be disappointed. The chips were nice and salted and had a great crisp to them. The queso was its own surprise and will keep you wanting more. Overall I highly recommend giving Ghost Tacos a try. You can tell the owner really cares about people and food. A++
-Juan

"Fabulous food & flawless service"
 Ghost tacos nailed it! Between all 7 of us, I think we had one of everything. No one had any complaints! Love the queso, it's different from the others and makes it very unique. Also, the spicy 🌶  salsa is on point! My personal favorite taco is the ground beef, love how it's seasoned, but all my tacos had amazing taste. Overall great experience!
-Daniel

"Another successful experience"
Oh. My. Gracious. Seriously THE BEST TACOS we have ever had. We got a family pack and tried a variety! The brisket is DELICIOUS!!! They were all good but the brisket was AMAZING!!!!! Seriously delicious and super fast delivery!!!!! If you haven't tried it yet, do it now! Thank me later!!!
-Lori

What a wonderful surprise discovering this place! My wife and I each ordered two tacos (yum!), an order of chips and queso, and sopapillas. Everything tasted amazing, a couple of the tacos hit the spice just right, where the heat hit you in the mouth a few bites in. Will definitely order again! Pro-tip: if you do get the sopapillas, eat dessert first. While delicious, they cooled down by the time we had them delivered and also ate through everything else first.
-Jon
Drop Us a Line
Don't be shy. Let us know if you have any questions!